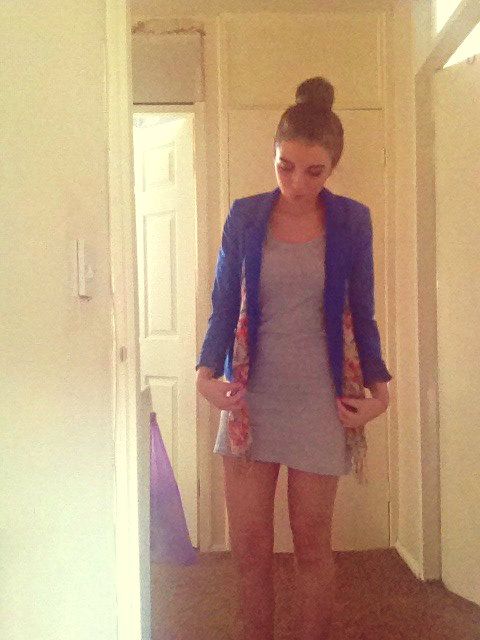 Baring my legs, my pale legs might I add, for the
glorious sunshine that we seem to be having, again.
Now, please just stay with us forever!
Apologies for the awful quality! Note to self:
CHARGE YOUR CAMERA REBEKAH.
Just a simple grey bodycon dress from the
HOH collection that is stocked at Debenhams,
paired with my favourite blazer EVER, from H&M.
Seriously, I love this blazer.
I think it is just great for turning
a simple outfit much more exciting and chic.
It's so comfy too. As is the dress!
I usually wear the dress as a top sometimes,
just tucked into shorts, which I also love.
Of course, wearing my Vectra style shoes,
and my adorned scarf, which I never seem
to have off me these days. Scarf, I know, crazy.
But, again, it just brightens up simple and
casual outfits, which is what I have done here.
As for my hair, this top bun seems to be my
signature style these days.
My hair is just
at such a boring length, that's it's just e
asier
It's absolutely crazy how fast this year
has gone, and I know we say this
every year, but it's true. Like, wow.
September soon. I love A/W fashion and
styles though, so really, I can't wait.
Hope you've all been enjoying the sunshine,
and catching some rays.
I'm super excited to be starting my Media Make Up