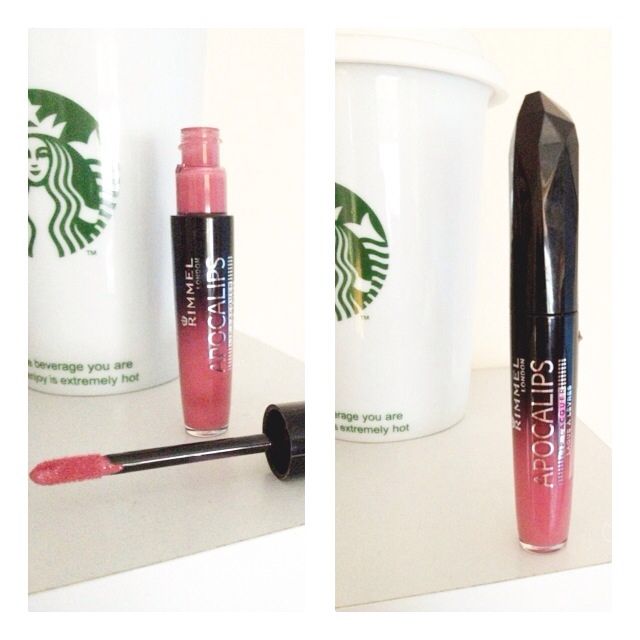 Everyone and their mother has heard about the latest lip product to come from Rimmel. I say latest, it officially launched in January. There has been a vast array of reviews all over the blogosphere and I meticulously read a bunch of them before I decided that I needed this in my ever growing collection.
By looking at it you may think it's just your ordinary run of the mill lipgloss, but don't be fooled as this is certainly no gloss. This lip lacquer may have the shine of a gloss, but oh my the pigmentation is wonderfully amazing and is the pigmentation of what you would expect to find in a lipstick.
These are just an absolute dream to apply to your lips, they're wonderfully creamy, the colours are extremely vibrant and rich. There are 8 different shades to choose from ranging from subtle nudes such as 'Luna' or a sultry spectacular red such as 'Big Bang' or 'Apocaliptic'. The shade I went for is 'Celestial' which I would describe as a dusky mauve toned pink with hints of coral. I love this shade, it's pretty and it's definitely a 'your lips but better' shade, well for me it is anyway. It's perfect for everyday wear. I find it looks great over a lipstick too. I'm hoping to expand my collection more with the likes of 'Stellar', 'Luna' and 'Big Bang'. You can't fault these, I think they are great and purse friendly too with them only being £5.99. Boots pretty much usually have a 3 for 2 on, so even better if you get them whilst their offers are on!
What are your thoughts on these? Have you tried them?
If you haven't I seriously recommend trying atleast one. Though, all you'll need is one
and you'll be swayed and converted...
Hope you've all had a fabulous day!