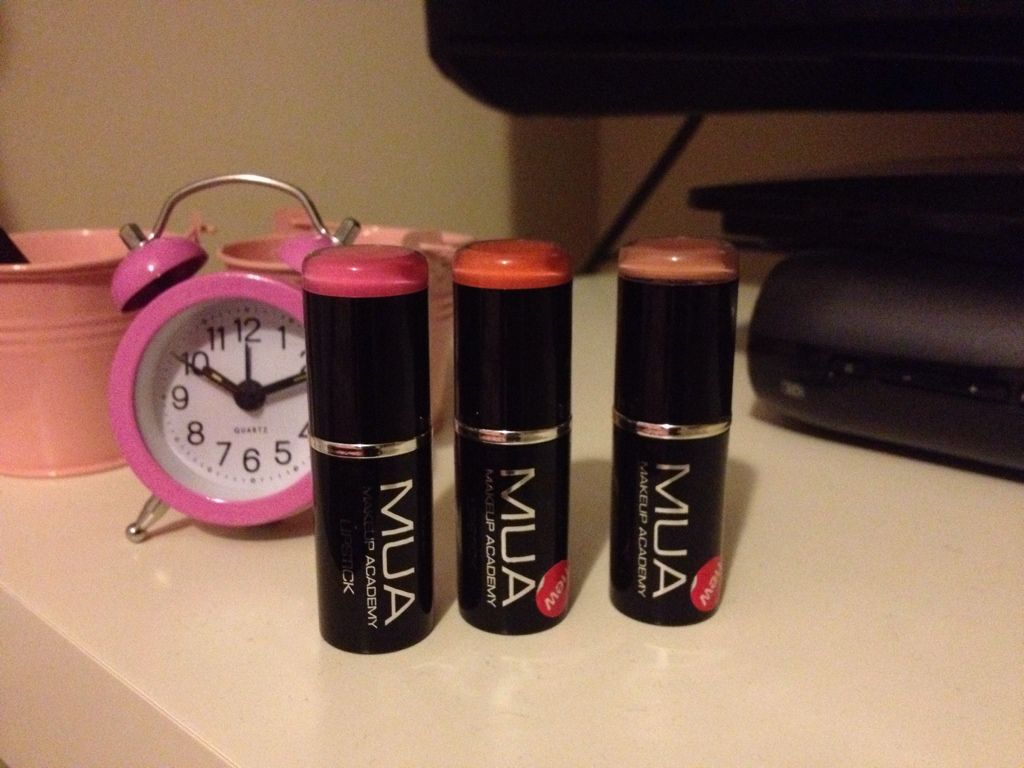 L-R Shade 4, Shade 16, Shade 14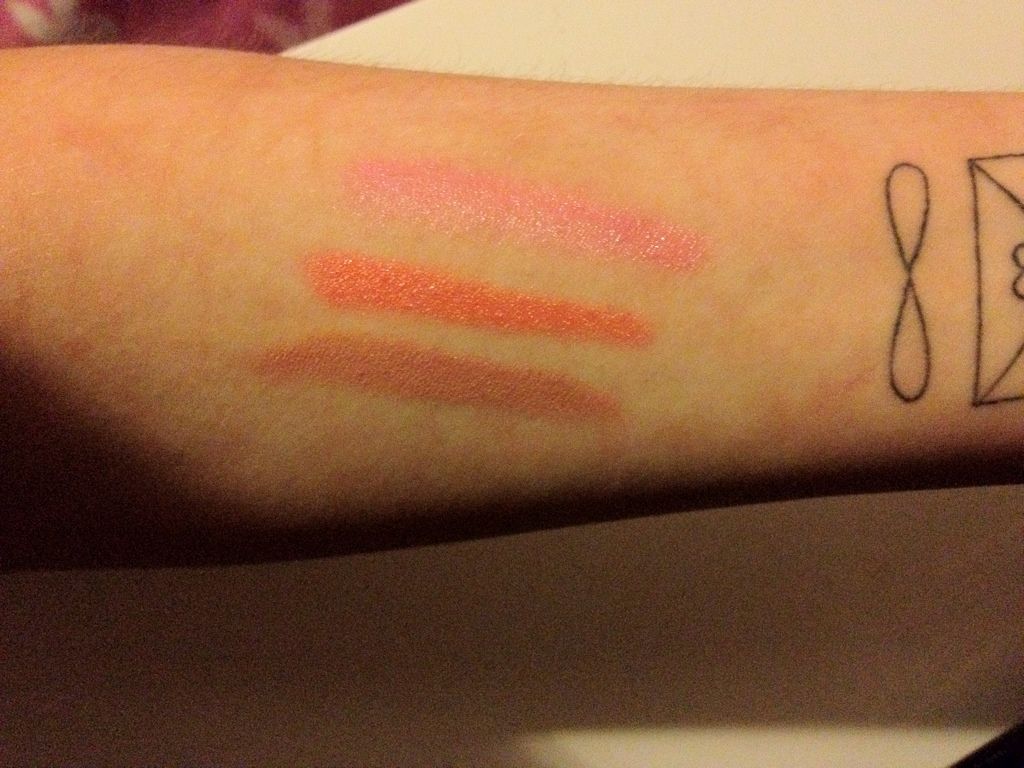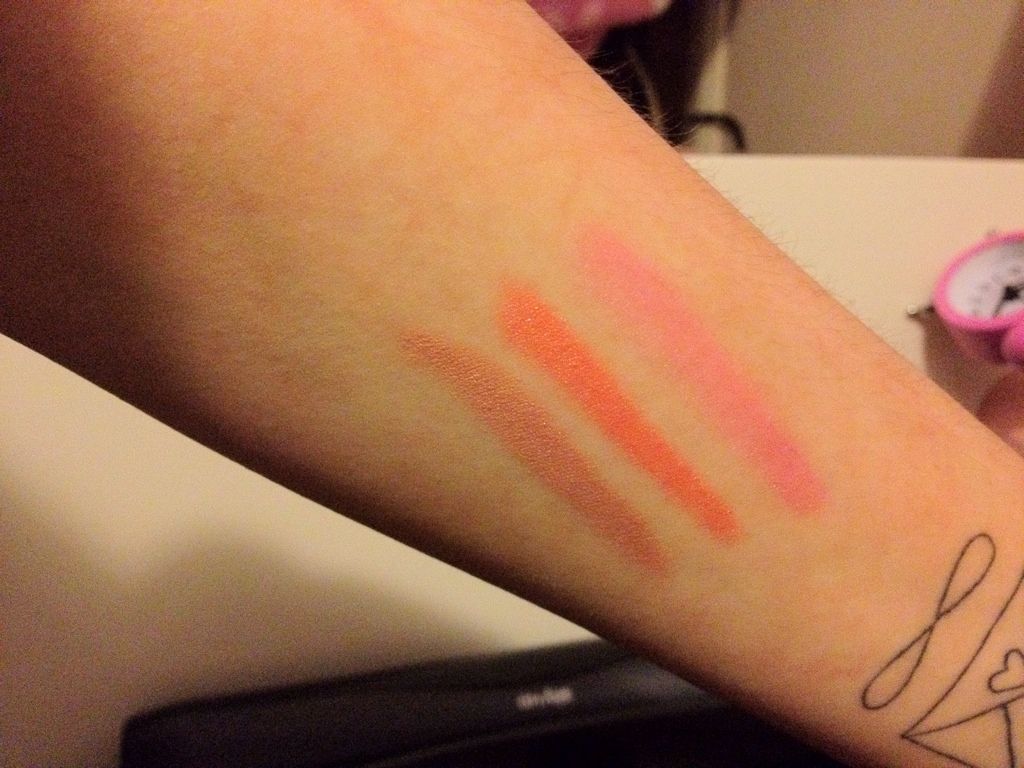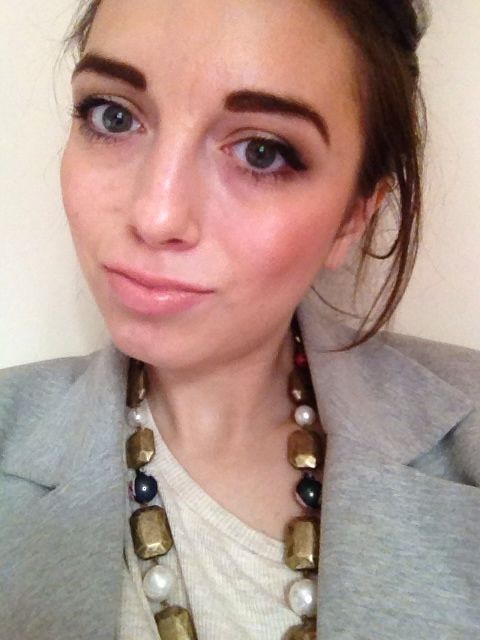 MUA Cosmetics are a cheap, extremely affordable drugstore brand. You'd think that with it being cheap as chips, that the products would reflect back on the price, but it's all really good quality, especially their eye palettes. The whole MUA collection starts at £1 and ranges to £8! I think that's rather fab. You can't really go wrong, and it's especially great if you just want a quick lippy for a quid, or eyeliner, a nail polish. Anything!
I bought these a while back, and like I said, for a quid, you can't say no really. I picked up shade 4, 14 and 16.
As you can see from the swatches, Shade 4 is a beautiful blue toned pink shade, it's definitely Barbie. At first look, you might think 'oh no it's too bright for me' however, it's not as bright as it seems when applied. It's very glossy, and not at all pigmented that much, it doesn't last that long, BUT as you can tell from my lips in photo number one, it does give a subtle glossy tint to your lips. For a pound, I don't mind, it's still a lip product I'll use!
Another shade that screams and jumps out daring. Orange! I'd never usually think to wear a orange lip colour. But, this shade I just loved, I'm loving corals and pastels and had to pick this up. This shade is much more pigmentated, though you do have to build it up a lot to get a more noticeable colour. The finish again is glossy, which I do seem to be finding myself leaning towards these days, which isn't like me at all. I do like this lippy and is perfect for everyday wear.
Last shade for you is Shade 14 or Bare.
I have to admit I picked this one up on a whim and was a bit like 'ugh, why?!' though now, and these past few weeks, i'm glad I purchased it! This is the perfect everyday subtle lip colour if you don't want to branch out in bright pinks or corals. It's a very natural looking colour. I thought it wouldn't suit my skin tone at all but I have really been loving it. Unlike the other two I picked up, this one was easier to apply with being much more creamier, and not glossy at all, definitely more matte. I have found the lasting power to be so much more longer, and not having to keep reapplying, which is great.
Definitely my favourite from the bunch.
I'm definitely eager about the MUA lip liners launching in August!
For MUA products go to your nearest Superdrug store or you can go to their site here.
Have you tried MUA lipsticks? What's your favourite shade? What else do you like in the MUA range?