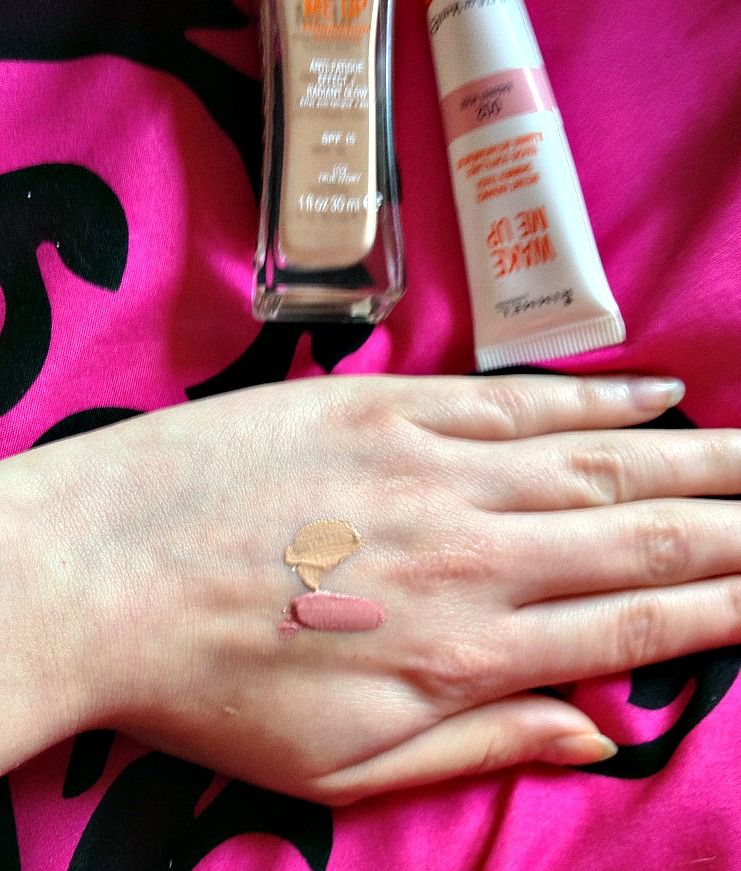 Hello lovelies! Look who's FINALLY blogging. YAY let's all dance. Or just me? Yeah, probably just me.
I have to say I'm bloody well happy to be blogging again, it's definitely my happy place, I'll tell you that.
Anyway... moving away from my ramblings, today I bring you the Wake Me Up range from Rimmel, which has definitely done it's rounds across the blogosphere, and the foundation is everywhere across blogs. That being said, I thought I'd shed my two pennys worth on these products. First things first, I love them. Yes. I really do. This foundation is an absolute dream to apply and the formula, the finish, the scent, the way it makes me feel is just amazing. If a foundation can finally make me feel pretty good about my skin then that's a clear winner in my eyes. I tend to gravitate towards full coverage foundations, anything that will hide my dull and tired skin as well as one that will hide those annoying blemishes. After using Estee Lauder's infamous DW for a while now, my skin got used to it and just hated the way it transferred all the time, and after reading countless reviews of this foundation, I decided to bite the bullet and get it. It's always tricky knowing what shade you are with drugstore brands, so picking out 'True Ivory' on a whim was a good choice as it's a perfect match. I love the glass bottle design and how lightweight it is, which makes it even better for travelling, it also has a pump dispenser too which again is always fantastic for a Foundation. (Another reason why I was getting super annoyed with DW!!) This is Rimmel's first foundation that visibly reawakens and illuminates skin with a radiant glow. I have to agree. My face feels instantly fresh and looks flawless. You think foundations that claim radiant glow would be 'Omg so much shimmer' but honestly, you can hardly notice the little shimmer particles! I would say that this is a medium coverage, definitely buildable if you prefer a more full look, but I'm definitely happy with this. I apply it with my RT buffing brush which I love doing, as it gives a more polished, flawless finish. Overall, I'd say this foundation is my ultimate favourite at the moment. The price is fantastic, the natural looking effect is has is fab, the longevity is great too, claiming to last 10 hours I'd say around 8 which for me I don't have a problem with. A definite 10/10 for me and I will repurchasing again!
Now, on to another Wake Me Up product from Rimmel, the Instance Radiance Shimmer Touch in the
shade 'Radiant Rose'. This little beauty right here is a cream blusher and highlighter all in one. Gotta love multi purpose products, hey?! Seriously though. I love this. They come in two shades, the one I have and one called 'Shimmering Sand' which is more of a bronzer shimmer. The product itself are really pigmented so a little goes a long way, only a pea sized amount in my opinion is needed on each cheek. Easily blendable too, I sometimes use my fingers or the RT blush brush or buffing brush, usually a mixture of all 3. Once you've found a application method you like, go for it, whatever works for you is fine. Again, the shimmer isn't extremely full on, no your face will not be covered in sparkle and glitter, just tiny small flecks which are only noticeable in direct sunlight. I just love the pop of colour it adds, or as Rimmel say 'long lasting flush of colour'. I think this is a great product and such a handy small tube too, easy for on the go. I also love the orange lid coinciding with the foundation bottle.
I bought both these products on 3 for 2 in boots, as well as buying the new apocolips lip products, but are available pretty much anywhere, Tesco, Superdrug, Boots. And, so cheap too with the Foundation £8.99 and the Shimmer Touch £4.99!
Have you tried any of these two? What are your thoughts?
Much Love
Rebekah
xoxo